Children / Youth
Welcome to Children and Youth Programs  at UUCA!
Our mission is to foster a diverse community of youth inspired to help others, make healthy choices, and take responsibility for their lives, all while having fun in a safe environment.
Based on our Seven Principles and Six Sources, we promote independent thinking and tolerance. We strive to create an environment in which children can come together – regardless of background – to have fun, explore issues both large and small, and to express themselves without fear of reprisal.
We offer religious education classes for children from kindergarten through high school. 
Nursery care is also available for babies and toddlers.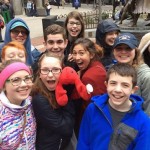 The Goals of Our Program Are:

To empower our youth to articulate and personalize our principles and sources, and to use them as a guideline for living.
To help our youth develop into thoughtful, caring adults, with a greater sense of who they are, and what we are as a church.
To give our children an opportunity to express their faith through social justice projects.