Black People Matter Program: 2017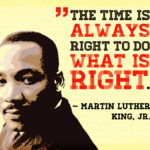 New Year – New Opportunity to put FAITH IN ACTION 2017 brings some innovations to the Faith Development program for children and youth – like the 3 week January Intersession program Black People Matter. Each Sunday – January 8, 15 and 22 – children and youth in the Spirit Play, Junior and Senior Youth will begin in the service as usual and then proceed upstairs to the Channing Chapel (Spirit Play room). After an opening and introduction to the theme of the day, participants can then select from a variety of activities/discussions/projects geared to differing interests and ages. While participants will benefit the most from attending all 3 sessions, they are freestanding so come when you can.
January 8- WHAT? What is this thing we call color? Are we really black or white? Participants will come away with a broader concept of who they are and explore what is beautiful/ attractive.
January 15 – SO WHAT? So what does it take to be a hero or heroine? On this Martin Luther King Jr. weekend we will learn about real living people, some from our neighborhood or church, who are telling the real story about racial disparities in our community. So what clues can we uncover to learn the real story?
January 22 – NOW WHAT? A popular slogan among Unitarian Universalists is "Deeds, not creeds". But what is the underlying value that informs my action? And getting skilled at any deed requires practice, so we will practice the skills needed to be a brave ally or friend.
Stages of Racial and Cultural Identity