Green Sanctuary
Green Sanctuary
The earth is our home. We are part of this world and its destiny is our own. The Green Sanctuary provides a framework for congregational study and reflection, plus individual and collective action. Although people sometimes disagree on specific environmental issues, we all accept the call to action that affirms our seventh principle in which we "promote respect for the independent web of all existence of which we are a part". Sustainable living, concern for our environment – these are the issues that this committee pursues. This is a profound commitment to our Seventh Principle. The UU Church of Amherst received official accreditation as a Green Sanctuary in August 2009.
In addition to UUCA's solar panels and recycling during during social events, including coffee hour on Sundays, UUCA participates in a Paper Recycling Program. Abitibi provides the green dumpster in back parking lot for specific types of paper products (newspapers, mail, magazines, advertisements); they do not accept plastic coated boxes, cardboard, or corrugated boxes .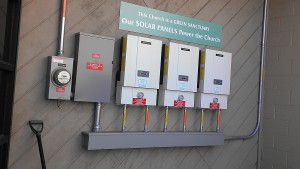 As Unitarian Universalists, we are called by our seventh Principle to affirm and promote "respect for the interdependent web of all existence of which we are a part." We envision a world in which all people are assured a secure and meaningful life that is ecologically responsible and sustainable, in which every form of life has intrinsic value. In other words, Unitarian Universalists are called to defer to a balance between our individual needs and those of all other organisms. Entire cultures, nations, and life forms are at risk of extinction while basic human rights to adequate supplies of food, fresh water, and health as well as sustainable livelihoods for humans are being undermined. To live, we must both consume and dispose. Both our consumption and our disposal burden the interdependent web of existence. To sustain the interdependent web, we must burden it less while maintaining the essentials of our lives. Hurricanes Katrina and Rita are painful omens of how racism, sexism, and poverty worsen the effects of global warming/climate change. Our world is calling us to gather in community and respond from our moral and spiritual wealth; together we can transform our individual and congregational lives into acts of moral witness, discarding our harmful habits for new behaviors and practices that will sustain life on Earth, ever vigilant against injustice.