Black Lives Matter Sign Defaced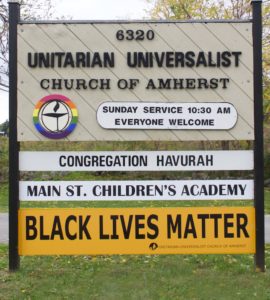 Donate to Restore Sign–GiveGab
Black Lives Matter Sign Defaced — December 6, 2017
The Black Lives Matter sign in front of the Unitarian Universalist Church of Amherst was defaced sometime on Wednesday. The word "Black" was sprayed over with black paint. The sign has been on display for over a year without being molested. The church says the sign was displayed to bring awareness of the difficulties faced by minority members of our community and the nation.
Hella Jacob, chair of the UUCA's Board of Trustees, said, "This act of vandalism will only serve to deepen our commitment to remind our community that black lives do matter."
For the Rev. Michelle Buhite, minister of the UUCA, it goes to the very heart of Unitarian Universalism: "We believe in the inherent worth and dignity of every person. This is our faith and why we have been called to this mission."
Please join us in this racial justice ministry!